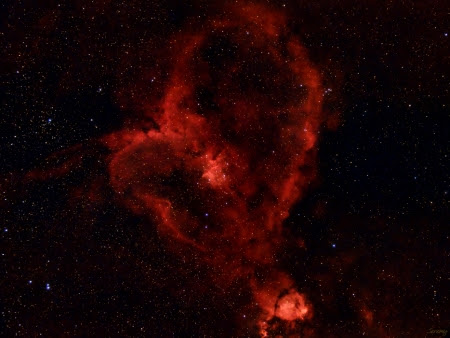 Annotated (website only):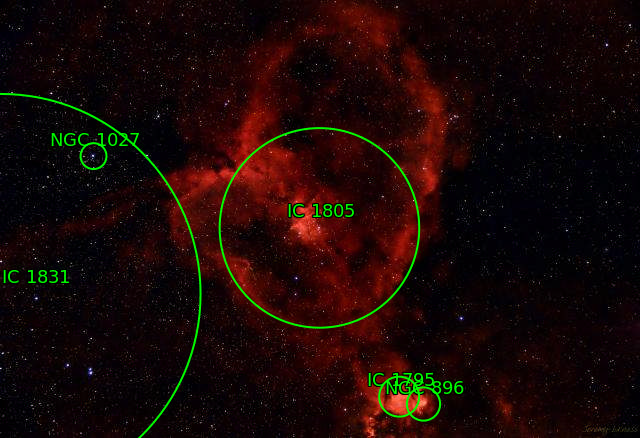 Objects visible in this photograph: Heart Nebula, IC1795, IC1805, NGC896, NGC1027, Fish Nebula, and some space dust.
Target was acquired from Monroe, WA.
🥇 1st Edition!
Metal Glossy White
12" x 9"
Every piece is personally signed and numbered and comes with a Bill of Sale and a signed Certificate of Authenticity. Currently, only the pieces on display are for sale. Pickup will be arranged at the close of the exhibition. We do not ship.
This piece is on display at:
Physiocare Duvall — from May 2022 to August 2022: 15315 1st Ave NE, Duvall, WA 98019

The Heart Nebula is an emission nebula that is visible due to glowing ionized hydrogen gas contrasted with lanes of dark dust. IC1805 hangs out next to Cassiopeia with its companions, the nearby Soul Nebula and the visually intersecting Fish Nebula. This image was captured with only a few minutes of exposure using a dualband seven-nanometer filter for Hydrogen Alpha and Oxygen II. The Optolong L-eXtreme effectively filtered out light pollution while letting in the light emitted by Hydrogen Alpha to produce a dazzling image in a short period of time.
Target information:
Constellation:
Cassiopeia
Right ascension:
02h 32m 49.962s
Declination:
+61° 24' 52.822"
Size:
3.21 x 2.19 deg
Radius:
1.942°
Pixels:
1.59 arcsec/pixel
Capture information:
Telescope or lens:
SVBony SV503 70ED
Camera or sensor:
ZWO ASI294MC Pro
Capture date:
2022-05-09
Exposures:
6
Time per exposure:
180s
Total exposure:
18m 0s
Focal length:
336mm
Aperture:
70mm
F-stop:
4.56