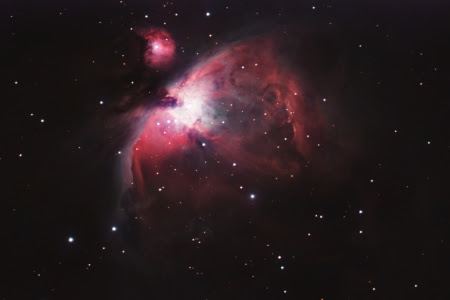 Annotated (website only):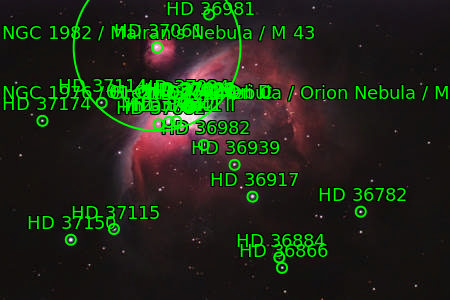 Objects visible in this photograph: NGC1976, Great Orion Nebula, Orion Nebula, M42, NGC1982, Mairan's Nebula, M43, and some space dust.
Target was acquired from .
🥇 1st Edition!
Metal White Satin
24" x 16"
Every piece is personally signed and numbered and comes with a Bill of Sale and a signed Certificate of Authenticity. Currently, only the pieces on display are for sale. Pickup will be arranged at the close of the exhibition. We do not ship.
This piece is on display at:
Physiocare Duvall — from May 2022 to August 2022: 15315 1st Ave NE, Duvall, WA 98019

In February 2020, I set a telescope I just purchased outside my house and provided it with instructions to take pictures of an area in the sky. The target I chose was M42, the Great Orion Nebula. The intricate structure known as a diffuse nebula spans 24 light years of space. It is the closest known area of active star formation to earth at an estimated 1,300 light years away. The energy it emits earns its spot as the brightest nebula in the night sky. The glowing 'heart' is illuminated by four brilliant stars referred to as 'the Trapezium' beanth a flowing 'scarf' of dark gas that separates M42 from 'the head' or M43, Mairan's Nebula. This continues to be my favorite target. It is one of the first nebulae I photographed and the first print I ever made.
Target information:
Constellation:
Orion
Right ascension:
05h 34m 59.791s
Declination:
-05° 28' 32.389"
Size:
54 x 36 arc minutes
Radius:
0.540°
Pixels:
7.19 arc seconds/pixel
Capture information:
Telescope or lens:
Stellina
Camera or sensor:
Stellina
Capture date:
2021-03-04
Exposures:
217
Time per exposure:
10s
Total exposure:
36m 10s
Focal length:
400mm
Aperture:
80mm
F-stop:
5.0