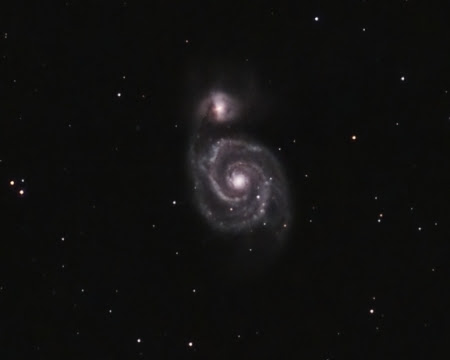 Annotated (website only):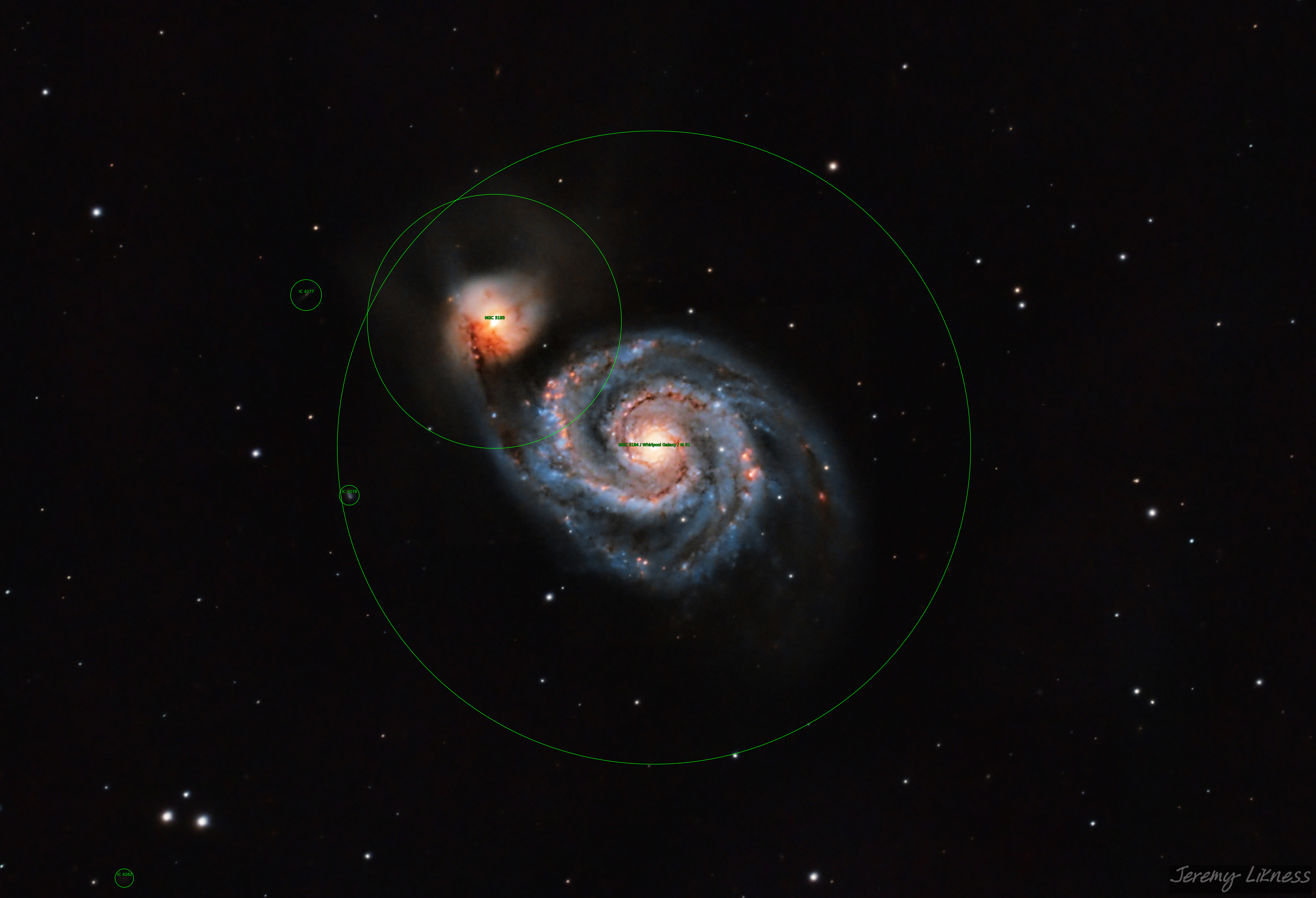 Objects visible in this photograph: M51, Whirlpool Galaxy, NGC5195, IC4278, IC4277, and some space dust.
Target was acquired from Monroe, WA.
🥇 1st Edition!
Metal Glossy White
10" x 8"
Every piece is personally signed and numbered and comes with a Bill of Sale and a signed Certificate of Authenticity. Currently, only the pieces on display are for sale. Pickup will be arranged at the close of the exhibition. We do not ship.
This piece is on display at:
Physiocare Duvall — from May 2022 to August 2022: 15315 1st Ave NE, Duvall, WA 98019

Due to its position high in the sky in the Northern Hemisphere, M51 or the Whirlpool Galaxy is in a prime viewing location and stays there all night. This makes it a popular target for galaxy hunters. The beautiful spiral galaxy is energized by the gravitational pull of the nearby spherical galaxy that is believed to have passed completely through it long ago. This energy is a catalyst for the rapid formation of new stars that illuminate the well-defined arms of the galaxy. A three hour exposure brings out soft colors and the faint, wispy veil of nebulosity that surrounds the galaxy.
Target information:
Constellation:
Canes Venatici
Right ascension:
13h 29m 57.629s
Declination:
+47° 11' 46.919"
Size:
26.3 x 21 arcmin
Radius:
0.281°
Pixels:
3.51 arcsec/pixel
Capture information:
Telescope or lens:
Stellina
Camera or sensor:
Stellina
Capture date:
2022-04-06
Exposures:
1058
Time per exposure:
10s
Total exposure:
2h 56m 20s
Focal length:
400mm
Aperture:
80mm
F-stop:
5.0