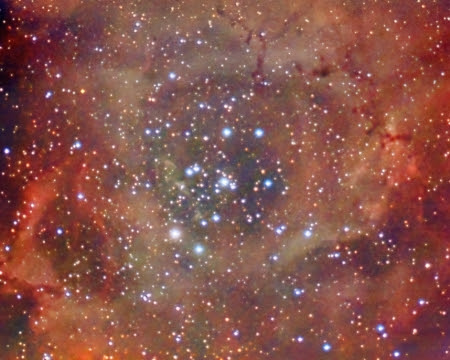 Annotated (website only):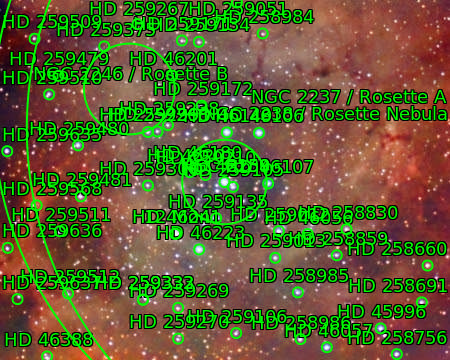 Objects visible in this photograph: NGC2244, The star 12 Mon, NGC1574, NGC2237, Rosette A, NGC2238, Rosette Nebula, NGC 2239, NGC 2246, Rosette, and some space dust.
Target was acquired from Monroe, WA.
🥇 1st Edition!
Metal Glossy White
10" x 8"
Every piece is personally signed and numbered and comes with a Bill of Sale and a signed Certificate of Authenticity. Currently, only the pieces on display are for sale. Pickup will be arranged at the close of the exhibition. We do not ship.
This piece is on display at:
Physiocare Duvall — from May 2022 to August 2022: 15315 1st Ave NE, Duvall, WA 98019

The Rosette Nebula is a large, bright nebula that is easy to find near the Unicorn constellation. It's size and brightness make it a great target for 'ordinary' digital and mirrorless cameras without a telescope. This shot at a focal length of 400mm fails to capture the entire structure but zooms in on its center. NGC2244 is actually the cluster of young stars in the heart of this nebulae. It is the raditation from these stars that is responsible for ionizing the gas in NGC2237 and causing it to glow.
Target information:
Constellation:
Monoceros
Right ascension:
06h 31m 55.216s
Declination:
+04° 56' 47.567"
Size:
49.6 x 39.6 arcmin
Radius:
0.529°
Pixels:
6.61 arcsec/pixel
Capture information:
Telescope or lens:
Stellina
Camera or sensor:
Stellina
Capture date:
2021-03-11
Exposures:
335
Time per exposure:
10s
Total exposure:
55m 50s
Focal length:
400mm
Aperture:
80mm
F-stop:
5.0