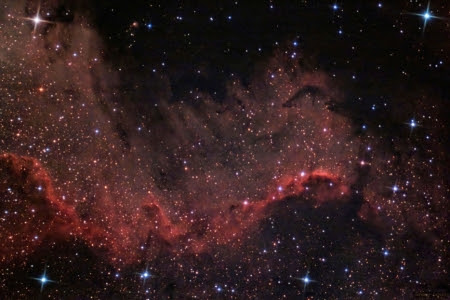 Annotated (website only):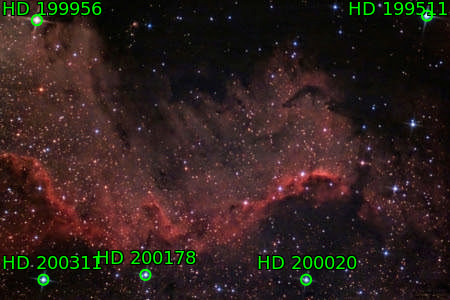 Objects visible in this photograph: NGC7000, and some space dust.
Target was acquired from Monroe, WA.
🥇 1st Edition!
Metal Glossy White
12" x 8"
Every piece is personally signed and numbered and comes with a Bill of Sale and a signed Certificate of Authenticity. Currently, only the pieces on display are for sale. Pickup will be arranged at the close of the exhibition. We do not ship.
This piece is on display at:
Physiocare Duvall — from May 2022 to August 2022: 15315 1st Ave NE, Duvall, WA 98019

The North America Nebula is a large, sparkling gem that hovers near the constellation Cygnus. Its outline is similar to the shape of North America complete with a Gulf of Mexico. I love the way longer exposure times bring out the three dimensional quality of the glowing red gases and the brilliant menagerie of colorful stars scattered between the nebula and Earth.
Target information:
Constellation:
Cygnus
Right ascension:
20h 58m 47.574s
Declination:
+43° 35' 21.734"
Size:
55.9 x 37.3 arcmin
Radius:
0.56°
Pixels:
7.45 arcsec/pixel
Capture information:
Telescope or lens:
Stellina
Camera or sensor:
Stellina
Capture date:
2021-07-10
Exposures:
690
Time per exposure:
10s
Total exposure:
1h 55m 0s
Focal length:
400mm
Aperture:
80mm
F-stop:
5.0