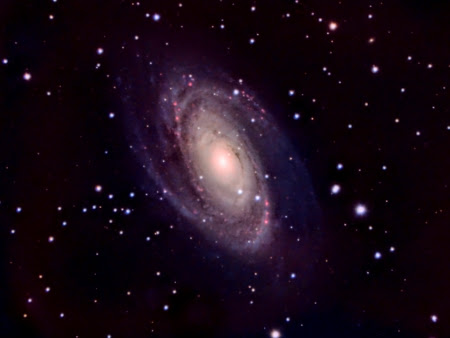 Annotated (website only):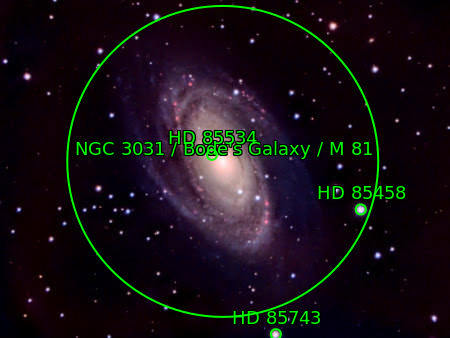 Objects visible in this photograph: M81, Bode's Galaxy, NGC3031, The star 1 Lac, and some space dust.
Target was acquired from Monroe, WA.
🥇 1st Edition!
Metal Glossy White
12" x 9"
Every piece is personally signed and numbered and comes with a Bill of Sale and a signed Certificate of Authenticity. Currently, only the pieces on display are for sale. Pickup will be arranged at the close of the exhibition. We do not ship.
This piece is on display at:
Physiocare Duvall — from May 2022 to August 2022: 15315 1st Ave NE, Duvall, WA 98019

Bode's Galaxy is a grand spiral design galaxy located near the constellation Ursa Major. It is a bright galaxy moderately easy to find. For this image, about half of the exposures were taken with a full color camera. The other half used a 7 nanometer narrowband filter that passes light in the Hydrogen Alpha and Oxygen II areas of the spectrum. This effectively helps to filter out light pollution, increase the detail and signal, and exposes structures of heated dust that glow red.
Target information:
Constellation:
Ursa Major
Right ascension:
09h 55m 37.021s
Declination:
+69° 03' 29.374"
Size:
31.3 x 23.5 arcmin
Radius:
0.326°
Pixels:
4.17 arcsec/pixel
Capture information:
Telescope or lens:
Celestron EdgeHD 9.25" SCT
Camera or sensor:
ZWO ASI294MC Pro
Capture date:
2022-04-20
Exposures:
136
Time per exposure:
90s
Total exposure:
3h 24m 0s
Focal length:
1650mm
Aperture:
235mm
F-stop:
7.5