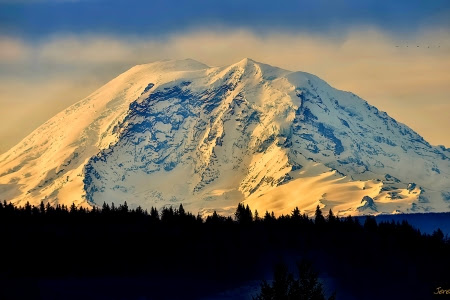 Objects visible in this photograph: Mt. Rainier, and some space dust.
Target was acquired from Monroe, WA.
🥇 1st Edition!
Canvas
18" x 12"
Every piece is personally signed and numbered and comes with a Bill of Sale and a signed Certificate of Authenticity. Currently, only the pieces on display are for sale. Pickup will be arranged at the close of the exhibition. We do not ship.
This piece is on display at:
Physiocare Duvall — from May 2022 to August 2022: 15315 1st Ave NE, Duvall, WA 98019

When I woke up on the morning of March 25th and looked at the mountain, I knew I had to take a picture. I scrambled to pull my gear together and attach my camera to the doublet telescope that would frame Mt. Rainier perfectly. I took several fast exposures but it was this single shot that captured the sunrise spilling over the mountain best. It was only later I noticed the flock of geese in a perfect line in the upper right corner. This is Mt. Rainier's North face.
Capture information:
Telescope or lens:
SVBony SV503 70ED
Camera or sensor:
Sony Alpha 6300
Capture date:
2022-03-26
Exposures:
1
Time per exposure:
0.002s
Total exposure:
0s
Focal length:
336mm
Aperture:
70mm
F-stop:
4.56