Elephant Trunk Nebula
Jump to:
Images
|
Blog posts
|
Videos
Images
---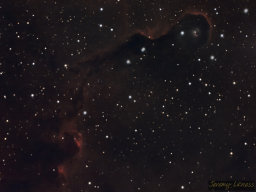 IC1396A is the designation for the Elephant Trunk Nebula: a dense cloud of ionized gas that has been compressed into a round shape from opposing forces of a massive star and several younger stars. The larger star illuminates the edge of the cloud and provides contrast for the trunk that curls at the end of a long column of interstellar dust. It is believed this compressed gas is forming into protostars.
2022-07-13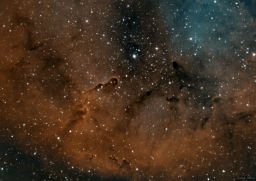 A detailed, close view of the Elephant's Trunk.
2022-07-13