NGC5461
Jump to:
Images
|
Blog posts
|
Videos
Images
---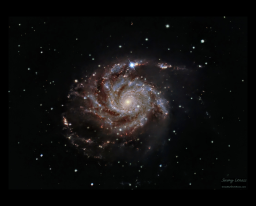 Supernova SN 2023ixf in M101 Pinwheel
A few weeks ago, supernova SN 2023ixf was discovered. A massive star ran out of fuel and violently collapsed, causing a brilliant explosion that can be clearly seen 21 million light years away. It is the closet supernova to earth in the past 5 years and 2nd discovered in the area in the past 15 years. Messier 101, Pinwheel Galaxy, with supernova visible top middle.
2023-05-25
A beautiful spiral galaxy that is quite photogenic.
2021-06-21