The star Alfirk (β Cep)
Jump to:
Images
|
Blog posts
|
Videos
Images
---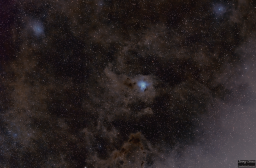 The Iris Nebula with no telescope
I'm learning how to process images with delicate and dusty features. I remembered how much dust I saw in an old photograph of the Iris Nebula, so I tried it out. This is the 3 hours of 60-second exposures with my Sony Alpha mirrorless (unmodified) camera and Samyang 12mm f/2 lens. And my best effort to process it all.
2023-07-23